Join us this Friday and Saturday (August 21 & 22) from 9 pm for some live music at NYX Jazz bar.
This week's featured artists are Glenn M. Ray and Monique Dehaney.
Glenn sings and plays the saxophone at several hot spots in Tokyo. He has performed with many famous artists from James Brown and Ricky Martin to Ayumi Hamazaki and Hirai Ken. We're delighted to have him with us this Friday and are looking forward to having a nice drink while listening to his soothing voice.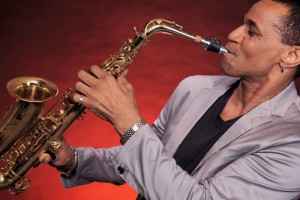 Monique, a Jamaican-born singer has been working on the Tokyo music scene since 2008. Since then she has done a variety of work ranging from being a wedding singer, hotel lobby Jazz singer, CM vocalist, cruise ship guest vocalist, live concert singer and back vocalist. Her jazzy-soulful tone is infused with a dancehall reggae background, which distinguishes her voice from her contemporaries.